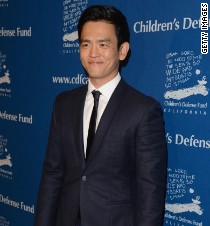 (CNN)No, your eyes are not failing you. That is John Cho you see in all these movie posters. The "Harold and Kumar" star, who also plays Sulu in the current line of "Star Trek" reboots, is the subject of a new Twitter meme.
#StarringJohnCho
isn't just a way for fans to show off how great they are at beheading people in Photoshop. The creators of the meme wanted to show what major films would look like if they cast Asian and Asian-American actors like Cho in lead roles. It's not just about lead roles, either. It's about
coveted
lead roles: the romantic roles, heroic roles, badass roles and aspirational roles that soak up the brightest parts of the spotlight and have historically been reserved for white actors.
Why John Cho?
The minds behind the meme
say it's because he is a visible example of a marketable, successful Asian-American actor.
Oh, and he's also a fan.
Read more: http://edition.cnn.com/